Monique is a wonderful, committed and hard working Mechanical Engineering Apprentice, completing her apprenticeship through Head Start, a State Government funded program that allows students to undertake paid employment, gain incredible skills within a trade/workplace, and undertake VCE/VCAL at the same time. The Head Start team and Monique kindly provided her experiences on the job with us recently:
Tell us more about you, your school as well as the trade you're in
I'm based in the north-east of Melbourne and completing Year 10 this year. I'm also undertaking my Certificate III in Engineering – Mechanical.
Mechanical Engineering sounds like a really interesting field to get into
It is. My father works in the engineering industry, and has some engineering equipment in shed at home. He's always tinkering or creating something, and I've always been around him helping him.
Your Father sounds like a real inspiration
I've always enjoyed the work we do together.
I'm sure everyone reading this would be interested in what you do on a typical day at work?
Sure – I make specific items that are required within the workplace. That involves operating machinery including grinding, drilling, and welding. It's really active work, requiring standing all day.
It sounds like you're learning some great skills, but it's hard work! Being an apprentice yourself, what advice would you like to pass on to women thinking of taking on an apprenticeship in mechanical engineering?
To start off with, you must have a genuine interest in engineering. It's also important to listen to everyone's advice and take it all in all. Make sure you concentrate on what you're doing. Also – be prepared to work hard all day.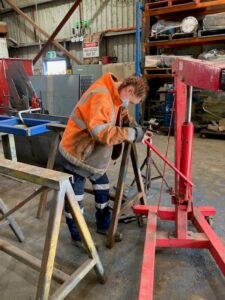 Great advice Monique. Have you got any long term goals in your engineering career?
Yes – I would love to work in mines, especially with dump trucks and massive conveyor belts! Dad visited his brother in a mine in WA once and he "face time" me to show the workplace. When I saw a female working there, that immediately became my dream.
We'd like to thank Monique for her time and insights into the mechanical engineering field, as well as passing on information about her apprenticeship. We'd also like to thank the Head Start team in the North-East Melbourne cluster for their involvement in the interview.
If you'd like to find out more about a mechanical engineering trade, why not get in touch with us? Send us an email today via info@twaus.com.au. Or if you'd like to find out how to participate in the Head Start Program, send the helpful Head Start team via head.start@education.vic.gov.au.